Iberco ham is a very versatile food that can be enjoyed in many different ways: Alone, with bread and tomato, fruit and many others with which it pairs well. In this article I will mention the ideal accompaniments for you to enjoy this great product in a different way. 
These suggestions are equally suitable for Serrano ham or pork shoulder. It depends on your preferences. You just have to bear in mind that an Iberian ham has more subtle nuances and that the Iberian shoulder has a stronger flavour; and that the serrano ham and the serrano shoulder, the meat is leaner, without the infiltrated fat that the Iberian hams have.
Traditional accompaniments to cured ham
The most traditional way of eating ham is on its own, cut into small, thin slices and placed on a plate and accompanied by bread, which can be accompanied by olive oil and even grated ripe tomato. Breakfast toasts with Iberian ham are very typical. You can even find croissants filled with ham and cheese in bars and bakeries.
At aperitif time, just before lunch and even for dinner, it is a deeply-rooted custom in Spain to serve a plate of Iberian ham accompanied by other cured meats, sausages such as salchichón and chorizo, as well as a good old cheese.
For me, the best sandwich in the world is with acorn-fed Iberian shoulder, as the flavour is much stronger and with a good portion of fat in each slice; a ripe tomato rubbed on the bread and a little olive oil.
Spanish Ham with fresh fruit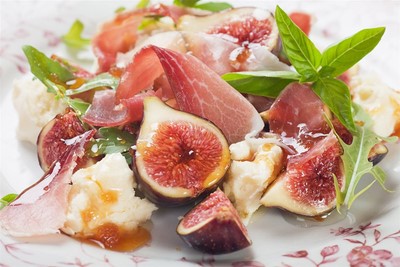 Many years ago the star dish at many wedding banquets, I'm sure you remember, was a slice of melon with a slice of ham on top as a starter.
In fact, many fruits go well with cured ham, for example figs, for me one of the best combinations, in a salad of fresh leaves and olive oil. Strawberries, pears and even avocado go well with a good Serrano or Iberian ham.
Watermelon skewers with ham is a super refreshing alternative for a light summer breakfast or dinner.
It goes without saying that nuts and dried fruit are a wonderful accompaniment to a good leg of ham: almonds, walnuts, hazelnuts, etc. Remember that acorn-fed 100% Iberian hams have acorns in their diet.
Ham in soups and creams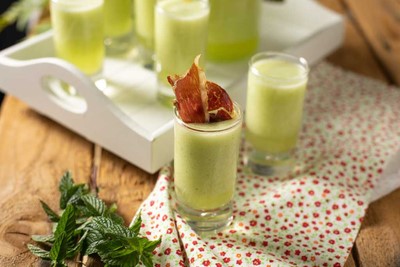 In this case, it is the ham that accompanies the main duck in the form of cubes, sticks or shavings.
You have probably on hundreds of occasions added some ham cubes to a chicken stock consommé along with some fried bread cubes. What a delicacy!
As you well know, it is "obligatory" to add a few cubes of Iberian ham to the traditional Andalusian gazpacho or salmorejo cordobés, the most popular cold soups in Spain during the summer season.
But there are other less traditional soups that the cured ham gives them a special touch: a watermelon gazpacho, so fashionable lately, or the soup version of melon with ham, which you can present in shots topped with a crispy slice of Iberian ham, which you can dehydrate in the oven at a medium temperature.
Ham and vegetables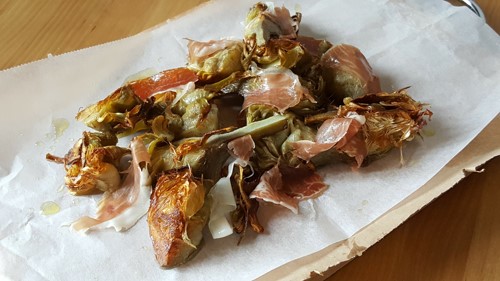 Who doesn't drool at the thought of a plate of peas with ham, or tender broad beans. Artichoke hearts cut into slices and fried in a frying pan with a little olive oil and a few shavings of Iberian ham is a real treat.
All cooked vegetables make a great marriage with ham. Something as simple as green beans, once boiled, sautéed with ham, is not only healthy but also delicious.
As you can see, practically all the dishes or accompaniments with Serrano or Iberian ham are very healthy dishes, with the exception of the croissant, which is perfect for a Saturday breakfast.
Which Spanish ham to buy for your recipes
Just let your preferences guide you. If what you like is a cebo Iberian shoulder ham, go for it. If you opt for a good Serrano ham because its meat is less fatty, go ahead.
The only advice I would give you is that if the ham is going to be cooked, it should be lightly cooked, only with residual heat, so as not to lose its magnificent properties.
For the more traditional, it is sacrilege to cook even slightly an acorn-fed iberico ham, as it should be eaten as it is, freshly cut, but if you like it and just give it a little heat, you won't have any problems.
I hope I have given you some ideas so that you can enjoy your ham in a different way, where this appreciated and tasty pork meat enhances any ingredient it accompanies.
If you are not a fan of mixing ingredients, it's very easy, never a single food can make you enjoy it so much.